There's no denying that Mexican food is delicious. But did you know that many of the dishes can be very healthy? If you're an athlete like Camron Cooper, that absolutely loves Mexican food, here are a couple of great choices for you. They're delicious and will help keep you fit for running to the in-zone.
Everyone loves a good burrito right? But try this…Unwrap that burrito, and you'll save about 300 calories to start. For a healthy bowl, go with brown rice, black or pinto beans, and grilled chicken or lean steak. Top with lettuce and salsa, which packs plenty of flavor for just 5 calories a tablespoon. Hold the sour cream, and get the guacamole on the side.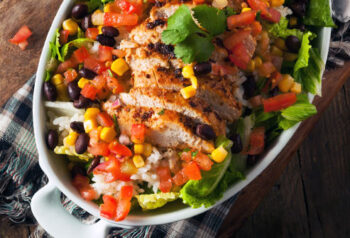 Another really great healthy dish is the fajita. With this sizzling dish, you can build your own bites. Start with lean sources of protein like grilled chicken, fish, or Camron's favorite…shrimp. Then pile on the veggies. Onions and peppers are loaded with fiber and vitamin C. Because flour tortillas have about 100 calories each, swap them for the corn kind or have only two.