American football has been played since the mid-1800's with the first College game occurring between Princeton and Rutgers on November 6th, 1869. But did you know that the games of Touch and Flag Football have been around nearly as long as tackle football. Flag football as we know it today was developed on American military bases in the early 1940's as a recreational sport for military personal developed to help them stay fit but was designed in a way that would help prevent them from becoming injured during wartime.
The sport has come a long way since its inception and now includes female teams. Toni Fuller, who was recognized as the first woman to coach football in a Cobb County (Georgia) School District, has had an interesting journey that has led her from a high school counselor to the position of Reinhardt University's inaugural Women's Flag Football Coach.
Fuller has plenty of credentials, from her rookie season of tackle football with the Atlanta Xplosion Women's Tackle Team (2004) to later earning Team USA honors in 2017. "I began playing at Vanderbilt University with an intramural team coached by former football players," stated Fuller.  "It embedded a passion for football in me."
Sixteen years of her playing experience has birthed an undying love for the game. "My body has aged beyond the playing level," she says. "It is now my plight to share what I have learned with future generations of young ladies that fall in love with the game. It's my duty. A good one!"
We had a moment with Coach Fuller to talk about her new role and what it has been like to transition from player, to counselor and to coach.
Play Book Athlete: What has been your experience so far in this new endeavor?
Coach Fuller: "There are girls all over the world looking to play flag football in college. But there is a very noticeable "gap" in recruiting at my level and that is money – the distribution of it; the remaining balance.  Beyond the official offer, many athletes are faced with financial obligations on their end to completely grasp the opportunities offered to them.  Those obligations can range up to $15K in some instances.  Closing this gap is important in matriculating talent to the next level."
Play Book Athlete: Has it been difficult to recruit young ladies for your team?
Coach Fuller: "I have sought opportunities and events aggressively so that I could be placed in the talent pool with the best athletes. This is the work! I wouldn't say difficult, but definitely intentional. I am starting from scratch; building brick by brick. My want for the tasks outweighs the challenge in a way."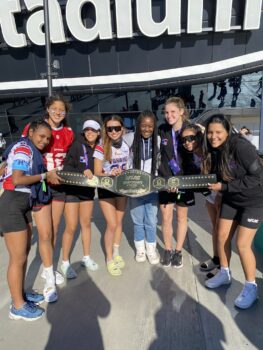 Play Book Athlete: What was it like when you got your first commitment?
Coach Fuller: "My first commit was Caroline Small from Sequoyah High School. Her willingness to commit was confirmation that we were going to have a group of ladies with character and athleticism. She set the tone for me. I remember, in a spiritual sense, feeling relieved as I knew the caliber of player this team would be made of. As a coach, the character of a team can't be created only influenced. My task is to identify solid character that plays flag football. She confirmed the trajectory."
Girl and Women's flag football has now garnered national attention by the NFL and has become the emerging sport of the 2020s.  As for GHSA and the team and players that participate, they are now a model or "best practice" for the rest of the world to follow.