Whether it's visiting the Georgia State Capitol or helping his younger brother with T-Ball, multi-sport athlete Garrison Cantrell always comes ready. The quarterback is definitely ready for camp season.
Having already attended MVP Camp and the Elite 11 Academy events, Garrison is headed to a few more camps this off season. Catch him at events like The Elite 100 VTO Sports Showcase, QB Factory's Beast of the East Showcase, The Shane Beamer Football Camp, The Dave Doeren Camp, the Vanderbilt University Football Camp and several others.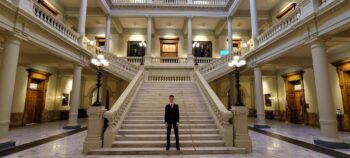 This may seem like a lot for such a young athlete, but Garrison has been able to balance football, basketball and baseball, all while maintaining his grades that have landed him on the A/B Honor roll with a 3.9 GPA. This scholar athlete helps give meaning to the term "GRIND".