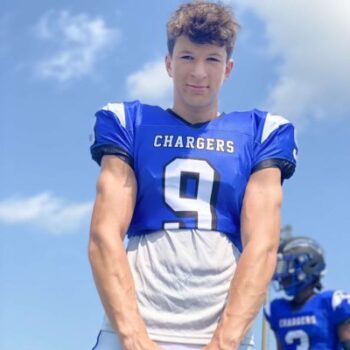 Grabbing his cleats, shoulder pads and favorite Nike ball before practice was the norm for Luke during his youth days in football-crazed Tulsa, Oklahoma. Going to school and church a mile away in the primarily white suburb of Bixby made life simple. But, if you dig deeper, this emerging QB hasn't lived a sheltered life. He has endured a lot, seen a lot and experienced a lot of life.
In Oklahoma, they start early. There is a 3-day combine for kids wanting to strap on a helmet for tackle football in the first grade. The combine is used for coaches to evaluate kids and draft their team at the end of the week. At the suggestion of another parent, Luke's parents, Brian and Tammy, reluctantly signed him up for the mini camp. To say the least, it didn't go so well. Luke seemed overwhelmed and was consistently out of position. After he embarrassingly got his leg caught up in the ladder during a footwork drill, it appeared Luke would be drafted low. However, that was before he ran the 40-yard dash. You can't replace speed and Luke had it at an early age. The call for the "A" team came later that night.
It wasn't smooth sailing though. "I remember Coach Roller calling me after the first three weeks of practice and asking me if Luke even wanted to be out there," recalled Brian. "Coach Roller said Luke was looking at the grass when he talked and wasn't paying attention. I told Shane let's give it a couple more weeks and see how he's doing." Shortly after that, the light bulb seemed to come on for Luke. He practiced his cadence and snaps in the backyard, worked on his tackling form with a dummy his dad bought him at Academy Sports and studied his playbook.
"Brian came home one day from work and asked me where Luke was and I told him he was outside," remembered Tammy. "He asked what he was doing and I said I didn't know. We both looked outside, and Luke had set up cones all over the yard and was timing himself through several drills."
The hard work paid off. Luke and his teams won a lot of games and he scored a lot of touchdowns. He was becoming a leader and was developing an innocent passion for the game. In fact, his head coach, Bruce McClure, an All Big 12 lineman for the University of Oklahoma, said that Luke is everything you want in a football player. "He is a great player, a great teammate, and a true student of the game. His leadership skills are second to none and, like every great quarterback, knows what every position does on every play. If we have to throw a wrinkle in on offense, we only have to tell Luke one time and he gets it. I wish I had 11 Luke Carney's on offense."
However, despite the early success, not everything was as it appeared. In 2018, Luke's Nana, who loved to watch him play football and rarely missed a game, was diagnosed with kidney cancer. She battled the disease with fury and eventually succumbed, but not without the ultimate fight. Tammy was in Oklahoma City with her dad, mom and the hospice caregiver; Brian was in New York City at an investment conference.
"I will never forget receiving the text from Tammy that her mom was in her last hours and I was in Harlem in a lonely hotel room feeling helpless as my boys were in Tulsa with our babysitter," recalled Brian. "I knew I needed to get back quickly. Once I landed the next day, I grabbed the boys and we made the hour and a half drive to Nana's house. When we got there, we all knew. But my three boys each took their turn saying goodbye and Nana spoke some unclear words as if to say I was waiting on you. It was so emotional." Within minutes of their arrival, Nana passed.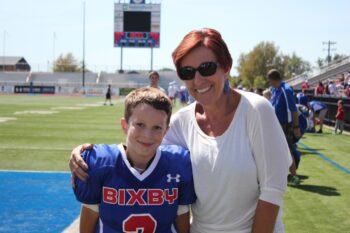 Luke mostly handled the loss of his grandmother internally. It affected him but he didn't talk much about it. He leaned on his parents, brothers, friends, teammates, and coaches for support. One of those coaches was Kevin Riddle. Kevin was synonymous with Bixby Football, but he took a keen interest in Luke early on. In fact, before every game, it became customary for Kevin, and not Luke's dad, to give him his final speech before each kickoff. Kevin was calm and encouraging, which those who know Luke fit him like a glove.
He gave Luke honest feedback on how he was doing at practice every week, what he was doing well and what he could improve upon. Kevin gave Luke his pre-game talks for six years until he was diagnosed with colon cancer. Despite the many struggles, hospitalizations, and fatigue, Kevin stayed involved. It gave him hope while he was still alive and the bond he shared with Luke was evident.
Cindy Riddle, Kevin's wife, said Kevin always had a huge heart for kids and along with his love of sports, being a part of Bixby Youth Football was his way to contribute. "He had an eye for talent, and if a kid was motivated to work hard, Kevin did anything in his power to help that kid progress," she stated. "Luke Carney is one of those kids, and he and his family will always be a special part of Kevin's legacy."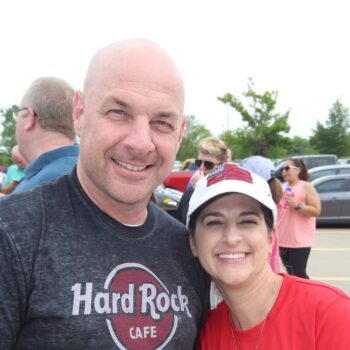 Later in 2019, Luke experienced more heartache when his Air Raid Express 7v7 teammate, Jino Boyd, lost his mom unexpectedly when she was shot at a north Tulsa convenience store. "Candy", as she was affectionately known, was a football junkie. She never missed one of Jino's games. She had custom shirts made with his name on the back and had an outfit for every occasion.
"Candy was a person you couldn't deny," recalled Luke's dad. "She was so energetic and passionate. As a single mom, she wanted the very best for Jino and consistently asked how I was raising Luke. I still think fondly of the evenings Jino spent the night at our house. It was hard on Luke to see Jino struggle and we all wish Candy was still here with us."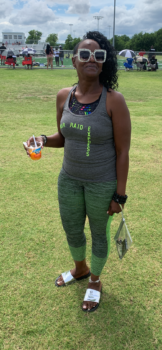 Through it all, Luke was resilient. He played basketball, tennis and ran track, starting in four sports in junior high. He continued to work diligently with his mentor and QB coach Rashid Lowe. His work ethic was undeniable. Rashid commented, "Luke Carney is the next generation of young quarterbacks. I have had the pleasure of working with him for several years on honing his quarterback skills. Luke improves drastically with each session as he is an eager student of the game. His strengths include quickness in and out of the pocket and athleticism if hurried or flushed out of the pocket. He has a very fluent and quick throwing motion for his age."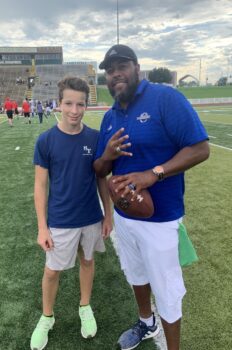 Luke used those skills to finish 2nd in the country at Football University's Top Gun competition and earned First Team All American honors. After that, Brian and Tammy inquired about IMG Academy. The QB who finished first, Ryan Downes, decided to go straight to IMG but Luke stayed in Oklahoma for another year. However, the attraction was too great, and Luke was accepted as a part of the top football program in the country as an 8th grader.
"I was in awe by the facilities, but I was hesitant about being away from my friends and family, living on my own," recalled Luke. "I remember crying and asking my dad if this was really worth it on reporting day last July."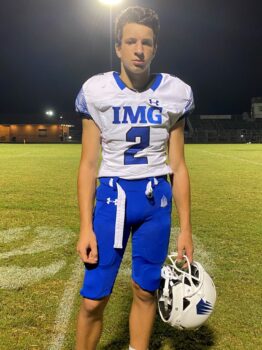 In the end, it was worth it. Luke had a tremendous experience. "I grew up a lot. I got bigger, stronger, improved my throwing mechanics, and learned to lift weights properly. Despite not being able to play so I wouldn't lose my freshman year of eligibility, I probably grew more last year as a person and as a football player than any year before."
This summer, Luke moved to Texas to compete for the starting job as a freshman at the historic Dallas Christian program, a program that has won the most state championships in Texas private school history. Of course, there will be pressure. It's Friday Night Lights in Texas, the biggest stage of all, but it would only seem appropriate that a kid who has been through so much will somehow find a way to navigate the challenge.
As Coach Jimmie Scyffore, Luke's 7v7 coach, said, "Luke has a special talent that many would dream to acquire. It is not to be taken lightly. I love the fact that he has a humble spirit and a "just one of the guy's" attitude. God has blessed me to see him up close and see a young man that is on the road destined for greatness. He has the key which unlocks the door to his future. It is bigger than talent or an arm or skill set with me. Luke is a great character young man that doesn't allow outside circumstances to affect his internal resolve. He isn't just an All American in my eyes, he is All World on personality alone. The way he plays is the cherry on top."
View Highlights
Follow @LukeCarneyQB