Living in a state where the "Oklahoma Drill" is a household word, all sports take a back seat to football. However, Oklahoma has seen its share of prominent high school baseball players such as Johnny Bench and Mickey Mantle. Rarely do we witness a track athlete that makes national headlines. That all changed this past weekend at the Adidas Indoor Nationals held in Virginia Beach, VA.
Isaac Carney, who left Bixby last July to pursue his dream of running at IMG Academy in Florida, helped power his teammates to two national championships. In the process he was named a High School All American.
The first win came in the Distance Medley Relay with a combined team time of 10:13.32. The other was in the 4x800m relay where the team finished with a time of 7:51.92 and Isaac set a personal record with a time of 1:57.73.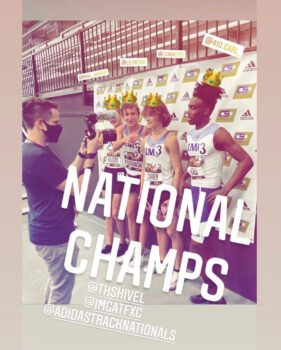 "The goals for the rest of the season are to run in the low 1:50s in the 800m and get recognized," stated Isaac. "I'm just having fun and riding the high," Isaac claimed in his interview with MileSplit. It was a high which very few, if any, saw coming.
Before the Nationals:
Isaac had a modest freshman season but qualified for state in track and cross country. However, his best achievement was an academic one as he and his Holland Hall cross country teammates earned Academic All State.
His sophomore year he finished just outside the Top 25 at the 4A State Cross Country meet. Progress, but certainly nothing special.
There were signs last spring, though, as Isaac set the Holland Hall Indoor 800m record at Pitt State and was leading after 600m before falling to several upperclassmen at the Oklahoma HS Invitational held on the University of Oklahoma campus. Also, he and his Holland Hall 4x400m relay teammates outpaced Broken Arrow, Jenks, Edmond, Norman, Bixby, Owasso, and others to finish as the 2nd ranked team in the state by a mere second to track powerhouse Union.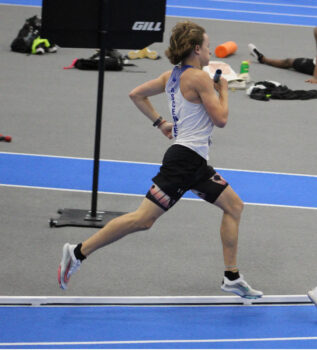 "Isaac committed himself last spring and summer to becoming stronger and faster before he left for IMG," expressed Marcus Pugh, Isaac's private speed coach and former 2x Big 12 Champion. "We talked about obtainable goals for him and set out to cross them off the list this year. I'm proud that he is under the training of a former coach of mine, Mark Napier."
There were no fireworks or expectations when he set foot on the beautiful 600-acre IMG campus in Bradenton, Florida. His teammates were from all over. They hailed from Atlanta, NYC, San Francisco, Baltimore, Orlando, Las Vegas. They even came from as far as Kenya and Sweden. So, when he got there, very little was expected of the 16-year-old kid from Oklahoma.
At IMG, there are 65-70 kids on the track and field roster. To make the team is a feat in itself. But Isaac kept grinding. He did core exercises in his room, went to the track to get in extra workouts, ate right, and got plenty of rest. By the time December rolled around, he was invited to be on the travel squad and attend the prestigious Galleria Games in Birmingham.
And what did he do? He won the 800m in the 15 to 16-year-old division with a time of 2:01.70 and set a new meet record which had been outstanding for several years.
But with all roads leading to one indoor national championship, only the top athletes could even step foot inside the state-of-the-art Virginia Beach Sports Center. Individuals and teams had to be invited and have one of the top qualifying times in the country. Teams came from all over, but Isaac did not let the moment overwhelm him. He walked in as just another runner and left a champion, proving he belonged on the biggest stage.