For many players it won't be a summer of sitting around. They'll lift weights attend camps and combines and perhaps play in a couple of 7 v 7 games. The same rings true for rising freshman Jimmy Thomas who can't wait to step onto his new high school's football field.
We took a moment to speak with the budding 2023 quarterback who has been training hard with Mike Bolio owner of Ground Up Sports Performance.
Play Book: What's your excitement level on playing HS football next season?
Jimmy:  I'm very excited to play HS football. I've been training all year to get ready for it.
Play Book: What, if anything are your nervous about?
Jimmy:  I'm nervous about the transition to HS football because players will be older and bigger.
Play Book:  What will you miss most about your Middle School team?
Jimmy: I played club football for an intercity team this year and made a lot of friends and learned a lot. I will miss that team but excited for the new season.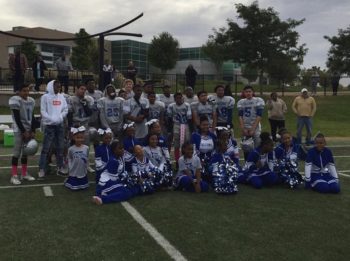 Play Book:  Will any of those teammates be joining you on the same team next season?
Jimmy: None of my team mates from last season will be on my team next season but a few of my old team mates that I played Pop Warner football will be on my team so I'm looking forward to that.
Play Book: What are your goals for your freshman year?
Jimmy:  My goals are to be the best I can, be a good leader and try to win the varsity starting QB position for my sophomore year.
Play Book: What advice are you leaving with the players that are left ?
Jimmy: My advice is to always give your all no matter what team your on and to remember that it's not about you it's about the team!
It's time for a new season and Jimmy will be calling Palmer Ridge High School home where he'll utilize all the skills and lessons he has learned thus far.
---