2020 QB Brett Nezat Credits Twitter For Latest Scholarship Offer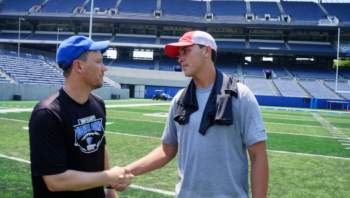 By now you should be tired of hearing, "you need to open a Twitter account." One more time! If you're an athlete competing for a college athletic scholarship, you need to open a Twitter account today.
Our Play Book Athlete 2020 QB Brett Nezat from Saraland Alabama doesn't need convincing. Brett was excited to receive a  recent football scholarship offer from George State University after coaches viewed his highlights on Twitter. His father Kris Nezat credits the power of social media / Twitter as being a very important tool when it comes to exposure for Brett. Kris stated once Brett pinned his spring football highlights to his Twitter account the quarterback coach from Georgia State followed him back.  Brett next received a (DM) Direct Message on Twitter inviting him to their summer football camp in Atlanta, Georgia.
Shortly after attending the camp Brett received a call from Georgia State offering him a full football scholarship. You can only imagine Brett's reaction to this surprising news and to think it all began by creating a Twitter account.
We're extremely proud of Brett and wish him the vey best this football season.
Continue to follow @Nezat_QB11