We're used to seeing him in a Cumberland Christian Academy (CCA) Patriots uniform but this year Jovan Tucker will hit the hardwood adorned in blue and gold. That's right the 6'3" guard will be playing with Georgia's #1 7A boys basketball team, The McEachern Indians.
His love for the game started at a very young age. And although he has been on both the track and cross country teams, basketball has always been his best friend. "I've always had a passion for basketball and my family always made sure I had a ball in my hands," said Jovan. "I'm always training and getting better and have always had my dad or my Uncle Mil on my back to motivate me every step of the way."
So how has this transition to a new school and team been so far? Jovan states that, for him, it's been a smooth one. "I've known Coach Thompson for a couple of years now," he said. "He's always been one of my favorite coaches and have the chance to play for him this year is a blessing." Jovan has developed a great relationship with his new teammates and says he has a strong feeling that they'll be making a good run this year to win the state championship two years in a row.
We were able to catch up with Jovan to see how his recruiting process has been going and what he's been doing to prepare for his last high school season.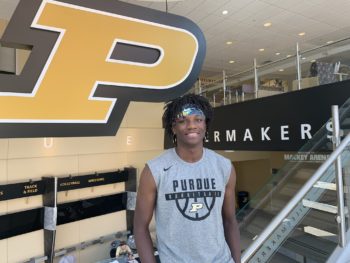 Play Book: How has your recruiting process been so far this year? What are some of the schools that have shown interest and what are some that you have on your radar?
Jovan:  My recruiting process has skyrocketed since last summer when I played with GA Canes in Shun Williams Live Periods. I've gotten interest from Mercer, University of California, Georgia, Murray State, Georgia State, TCU and plenty of other top D1 schools. 
Play Book: Your team didn't lose very many games last season…but how did you stay motivated after losing a game?
Jovan:  At CCA we only lost 6 games and those games, I feel like we mentally fell apart as a team. After a loss we talk as a team about where we went wrong and how we can prepare for the next game. With such a talented team we always adjusted.
Play Book: Do you have any rituals that you must perform before a game?
Jovan:  I always say a little personal prayer to God and my grandpa Benjiman before every game I play. 
Play Book:  Do you get extra training outside of your conditioning at school. How has this training helped improve your skills?
Jovan: On Saturdays and Sundays I train wit Coach Kent Davidson at Notre Dame Academy who has brought my game to a whole different level. He also taught me how important footwork is. It's so important when it comes to shooting, but man I tell you proper footwork will change how you play and will make it so much easier for you to score. 
Play Book: In what area do you feel you've improved the most?
Jovan:  I think I improved most in my shooting ability and my athleticism has just skyrocketed. I've always ad great ball handling. 
Play Book:  What drill/workout do you hate the most?
Jovan:  I don't really hate any drill because I feel like every drill your coaches or trainer make you do has a purpose so I never take any drill for granted. 
Play Book:  What advice has your coach given you that you'll always remember?
Jovan:  Coach Alan Taylor at Cumberland Christian Academy told me to always keep a clear mind during the game and the game will come to me. I'll always remember that because it helps me each time I get frustrated on the court or if the game isn't going right for me. 
Play Book:  What tips would you give to someone deciding to play basketball?
Jovan:  You're work ethic has to be top notch. You have to always want to get in the gym to work on your game and put up shots. Basketball takes a lot of skill and discipline and you have to have a tough mindset because if you don't you'll have a hard time. 
At Cumberland Christian Academy, last season, Jovan averaged 17.4 points, 11.8 rebounds, 3.2 steals, 2.5 blocks and 6.8 assists. We're looking forward to what  he does next with the McEachern Indians.