Photos by: Clyce's Photography and Ty Freeman Photography
"If he can shoot… then he can shoot. It shouldn't matter if he's 6'3 or 5'10…heart over height." As you scroll down the Twitter timeline of 2020 point guard Matthew Smith you come across this line of thought.
People say if you're smaller in stature you can't be good at basketball because of the automatic disadvantages that you have when playing. However, history has proven this statement incorrect. Just reflect on great players like Spud Webb, Isaiah Thomas and even former head coach of the Alabama Crimson Tide…Avery Johnson.
We find the same hustle mentality in Matthew. He attends Osborne High School in Marietta, Georgia and is no stranger to the hustle game of basketball. At just a mere 7-years-old his father introduced him to the sport and he has never looked back. With great influences like his mother and his high school coach, Matthew knows that he'll continue to be successful.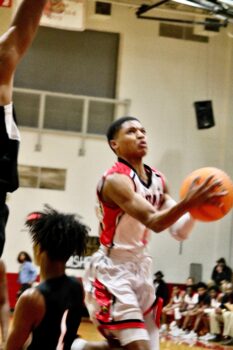 He has had a great season this year averaging 15 points per game with his highest coming against River Ridge where he posted 37 points, 3 assists, and 4 rebounds.
We caught up with Matthew for a quick sit down to get to know him a little better.
Play Book: What moment this season were you most proud of yourself?
Matthew: "My proudest moment this season wasn't about me. It was the team and scoring over 90 points with them against Dalton."
Play Book: You said your proudest moment was what you accomplished with your team. What do you think the best qualities of a team player are?
Matthew: "I think the best qualities to have are selflessness and commitment. You have to be committed to the team."
Play Book: You've been described by evaluators as being a gritty defender that shoots the ball really well. What has helped you become the player you are today and how do you stay motivated after losing a game?
Matthew: "What has helped me has been just playing basketball more and more every day. That's developed me into a better player. As far as losing a game and staying motivated…it's been through God and his words."
Although there are no official offers on the table, Matthew says he continues to look for the perfect opportunity to play at the next level. He has his eyes set on several institutions such as Tennessee State University, Alabama A&M, Alabama State, Hampton, Huntingdon, and Albany State. And when asked how he would define his success, he simply said…"It's incomplete."
You can follow senior point guard Matthew Smith on twitter @mattofatl to see which institution will scoop up this gritty defender with a high basketball IQ.