I'm sure many players have dreamed about it but Ravyn Madaris, a point guard for the Pebblebrook Falcons in Mableton, Georgia, has lived it a couple of times. During the Boo Williams AAU Nike Invitational, this past spring the 5'7″ senior sank a 3/4th court shot at the buzzer.  To add a few sprinkles to the ice cream, she did it again, during a regional playoff game, from the opponent's free throw line.
So where did this drive and determination come from? She says her father is the biggest influence in her basketball career. At the tender age of seven, while some little girls were playing with their teacups and dolls, young Ravyn was dribbling a basketball with her father at her side.  "I have a lot of family members that play basketball including my father. I think that's where my talent comes from," she stated. "One day I kind of just said that I wanted to play."  
She says basketball is literally the only thing she has a passion for and hasn't ever thought about any other sport. Her stats say it all. She hit her 1000 point mark midway through the start of the season and hasn't let up.  She has racked up 1,141 career points, 454 rebounds, 221 steals and 20 blocks. Ravyn was named to the 2020 2-7A Girls All-Region Team and she also pulled in the MVP award from the She Got Game Classic Tournament held in Atlanta.
At the start of the season, Ravyn says she wasn't sure what to expect especially since they had a new head coach. But one thing she was certain of was that she wanted to make it far in the regional tournaments. Even with a new coach, Ravyn and her Lady Falcons didn't miss a beat and continued to reign supreme finishing their season 22-9.
Head coach Tina Hadley was very impressed with what she saw in Ravyn on the court. "My first impression of Ravyn was that I thought that she was a hidden gem," she says. "I also thought that she was under-recruited."  She says Ravyn has become more vocal as a leader this season which is another goal the senior was striving for.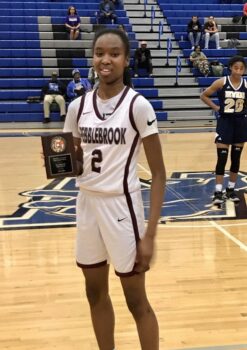 The season is over and now Ravyn says she is focusing on college applications and trying to decide where she will continue her academic and athletic journey. Although coach Hadley says she'll miss Ravyn's corny sense of humor, we know that wherever this dynamic and energetic player ends up, she'll do exceptionally well.