There aren't many parents that haven't heard the words "When I graduate, I'm moving so far away from here…" at least once in their teenager's high school career. The same rings true for Brian and Beverly Jones, parents of Brittny Jones. "I always talked about how I wanted to get out of Georgia and go as far as I can…" Jones stated in an earlier interview.  In August of 2006 far away she went. She left her hometown of Austell, Georgia and landed on the other side of the map enrolling in Fresno State in California.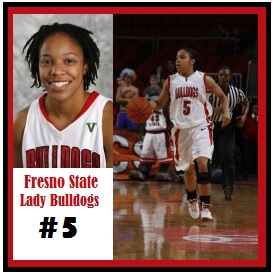 Of course the saying goes…There's no place like home. So she clicked her heels three times and home she came, back to Georgia to become the head coach of her alma mater, Pebblebrook High School. "My dedication and love for the Pebblebrook Community (Mableton & Austell) drove me to apply for this position," she says. "Upon graduation with my undergraduate degree I told my college basketball coach that I wanted to come back to my home town and coach the girl's basketball team."  So, at the age of 25 Jones sat anxiously in the quiet office of her former high school awaiting a decision that would eventually take her full circle.
During her four-year high school career, Jones averaged 10.9 points per game, 5.3 assists and 2.4 rebounds per game. In the 2003-04 season she guided her team to the best finish in school history and a state quarterfinal appearance. At the time, she owned the school's career assists record while ranking third all-time in scoring. As a senior she led the Lady Falcons to a 22-8 record, regional runner-up finish and an appearance in the state's "Sweet 16".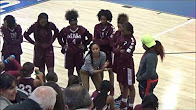 In Jones' first year as head coach, the Lady Falcons posted overall stats of 14-13 and regional stats of 8-8. The 2015-16 season they were 10-15 overall and 4-10 regional. In her junior season as head coach, Jones along with her coaching crew have taken the Pebblebrook Lady Falcons to new heights. Finishing off the 2016-17 season 21-8 overall with regional stats of 8-2, they showed the basketball world that they were a force to be reckoned with.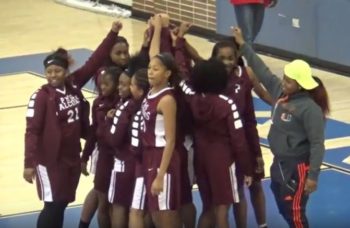 For the first time since their coach was a player, the Lady Falcons rose to the challenge and finished #2 in the 2-7A region, secured a spot in the state championship battle and made an appearance in the "Sweet 16". After they clinched the state playoff berth, Jones says the atmosphere was "euphoric". "It was just one of those moments that you will never forget. I know that the players may never remember the score, or how many points they did or did not score but they will for sure know exactly how they felt after that game! It has been 11 years since any Pebblebrook girls basketball team clinched a state playoff berth. I will always remember that moment!"
Assistant Coach Ashley Curry, who comes from a long line of basketball players and coaches, attributes the club's success to believing in the coaches, believing in the players and ensuring that they remained a family through the ups and downs. "We have such a great group of young ladies who love the game just as much as we (coaches) do," she says. "When you have a team that is passionate and dedicated to do what they simply love and enjoy, it will bring success." Coach Curry says best thing about working with Coach Jones is her passion and dedication. "She believes in what our coaches and players can achieve despite the naysayers and despite the obstacles we face."
There were some that didn't think the team would make it as far as they did. They were underestimated but proved that they could compete among the best. With 11 of their 14 players returning next season, the Lady Falcons can't wait to continue what they've started.
LADY FALCON HISTORY TIDBITS
| | |
| --- | --- |
| 2005-2006 | 2016-2017 |
| Brittny Jones as a Player | Brittny Jones as a Coach |
| 22-8 Season Record | 21-8 Season Record |
| #2 in Region | #2 in Region |
| Appearance in the "Sweet 16" | Appearance in the "Sweet 16" |
JONES' HIGH SCHOOL ACCOLADES
Three-time All-County selection
Two-time All-State pick
Two-time Atlanta Tip-Off Club honoree
Competed on the Georgia Dream Team elite traveling team
---
---
---