When I look at this athlete, I'm reminded of the old advertisement "Bo Knows". It was an advertising campaign and featured professional baseball and American football player Bo Jackson. Jackson was the first athlete in the modern era to play professional baseball and football in the same year.
Instead of chanting "Bo Knows", friends and family of Myles Arterberry are chanting "Myles Knows". While scrolling through his twitter timeline we found him saying "It's time to really find my self in the incoming years and I'm ready to put in the work to get there". 
Myles is a rising 9th grader who plays football, baseball and is also on the track & field team where he runs the 400m.
He's definitely on the right track and putting in the work. Aside from putting in work on the field and the track, Myles is making sure he has what it takes to succeed in the classroom as well.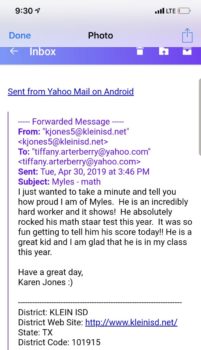 Keep following this star student-athlete and watch the magic unfold.